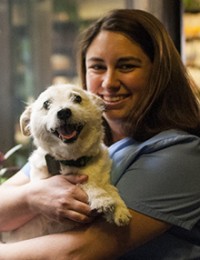 Lauren Mason has devoted her entire career to helping animals through Veterinary Medicine. She has been around animals her whole life. Her home life, as well as her career, is filled with animals, not just dogs and cats but horses as well as in the past cows, ducks, chickens, pigs, sheep, and geese.
Her pastimes are usually spent in school or doing homework. She will be hopefully graduating from the local Junior College in which she will be getting her general A.A in liberal arts with an emphasis in Language arts.
Before starting to work at Animal Hospital of Livermore, she worked at a fast food place, but she wanted to work with animals. Along with working and going to school, every so often she will foster animals that were up for adoption. Her home has many different types of animals ranging from horses to geckos, (yes I said gecko).
Lauren was born and raised here in Livermore. She is proud to say that she has seen how downtown has grown as well as the city has grown.